9th INTERNATIONAL SYMPOSIUM ON AVIAN CORONA- AND PNEUMOVIRUSES AND COMPLICATING PATHOGENS
4th ANNUAL MEETING OF THE COST ACTION FA1207
The proceedings booklet of the conference have been sent out to all conference participants. The pdf of the proceedings can also be downloaded following the link: Proceedings symposium
To fill in a short questionaire about the conference: Survey Monkey AvCoV2016 
To download the pictures of the conference (by courtesy of Cynthia van Hassel) Foto selection AvCoV2016 (no need to register in Dropbox)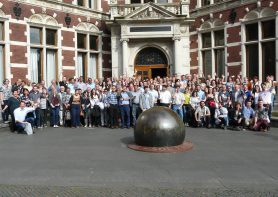 Scientists from academia and industry are invited to discuss recent scientific advances on 'Avian Coronaviruses and complicating pathogens' in the vicinity of Utrecht (Leusden), The Netherlands, 21-24 June, 2016.
The tradition continues, the venue changes
After many successful meetings in the Castle of Rauischholzhausen in Germany, the meeting now changes venues to The Netherlands and is organized by GD Animal Health and the Faculty of Veterinary Medicine (Utrecht University).
Programme
The 9th International Symposium on Avian Corona- and Pneumoviruses and Complicating Pathogens will be jointly organized with the 4th Annual Meeting of the COST Action FA1207. Sessions will be introduced in key note lectures by leading scientists in the field. The programme also includes oral and poster presentations by conference attendants, based on selection of submitted abstracts. Manuscripts of the presentations will be collected in the proceedings after the meeting.